ICRAVE has been taking nightlife over the top for nearly two decades. By focusing on the ever-evolving potential for sensational new experiences, we have designed some of the world's most exclusive and successful nightclubs and lounges.
Marquee Singapore
Aiming to reset the bar for what nightlife can be at the internationally-renowned Marina Bay Sands entertainment complex, the Tao Group tapped ICRAVE to develop Marquee Singapore. We created an immersive, three-floor nightclub experience with a perfect blend of design, technology and cutting-edge sound.
Location
Singapore
Services Provided
Experience Design
Interior Design
Lighting Design
Website
Check out pictures from the grand opening below.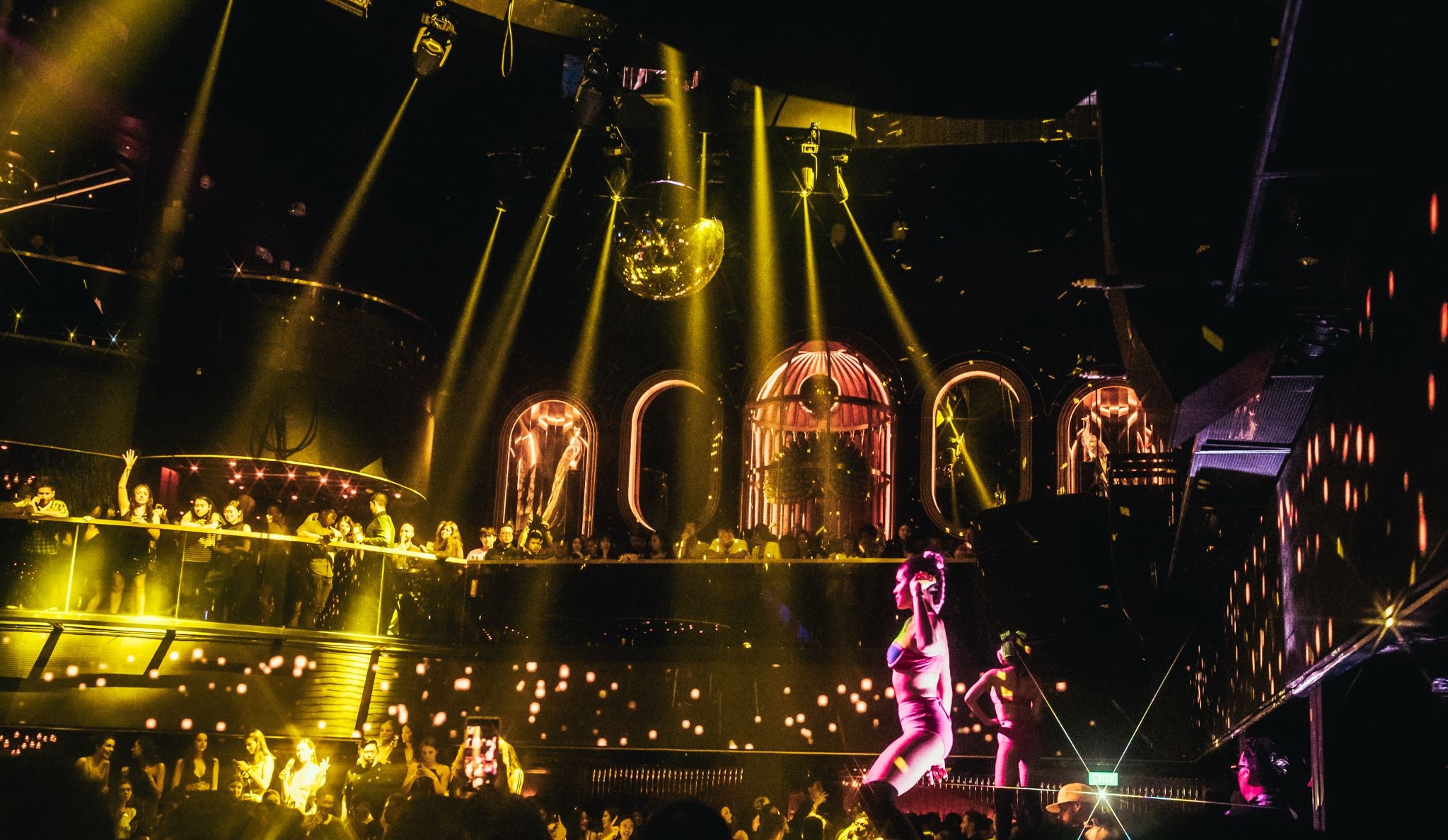 Avenue Singapore
The Tao Group is bringing the panache of Avenue NY and Avenue LA to the multi-concept dining and entertainment destination at Marina Bay Sands in Singapore.
Dramatically tall ceilings soar 70 feet, high enough for a full-sized, eight-armed Ferris Wheel to offer riders unrivaled views of the action below. Bowling, skeeball, pool, arcade games and karaoke will make Avenue Singapore more than just a place to cut loose.
Location
Singapore
Services Provided
Experience Design
Interior Design
Lighting Design
Website
Lavo Singapore
Experience vibe-dining, where Italian-American cuisine meets electrifying music. Set against Singapore's spectacular skyline at 57-stories aboveground with 180 degree views of the city, LAVO is a sleek and contemporary Italian-American restaurant that flaunts a luxurious lounge complete with a fully-equipped DJ booth. As the music gets pumping, rock the night away with handcrafted cocktails at the sprawling outdoor bar and terrace.
Location
Singapore
Services Provided
Experience Design
Interior Design
Lighting Design
Website
People love sharing their experiences at Lavo on social media
LIV
Charged with putting Miami's newest night spot on the map, ICRAVE created the ultimate, ever-evolving experience venue. LIV became an unparalleled place to party, with multiple layers of theatrics built into an historic architectural structure. LIV went on to become the country's top-grossing venue outside of nightclubs located in Las Vegas.
Unique technology pumps up LIV's reputation for fun as a giant motorized spider descends from the ceiling and electrifies the crowd.
Location
Miami Beach
Services Provided
Interior Design
Lighting Design
Technology
Website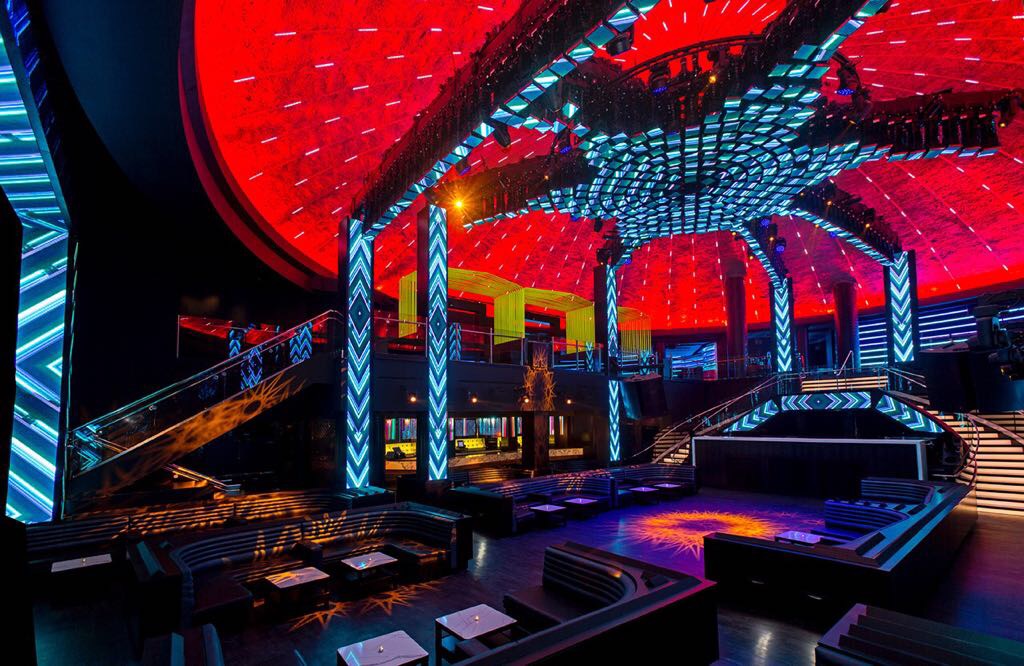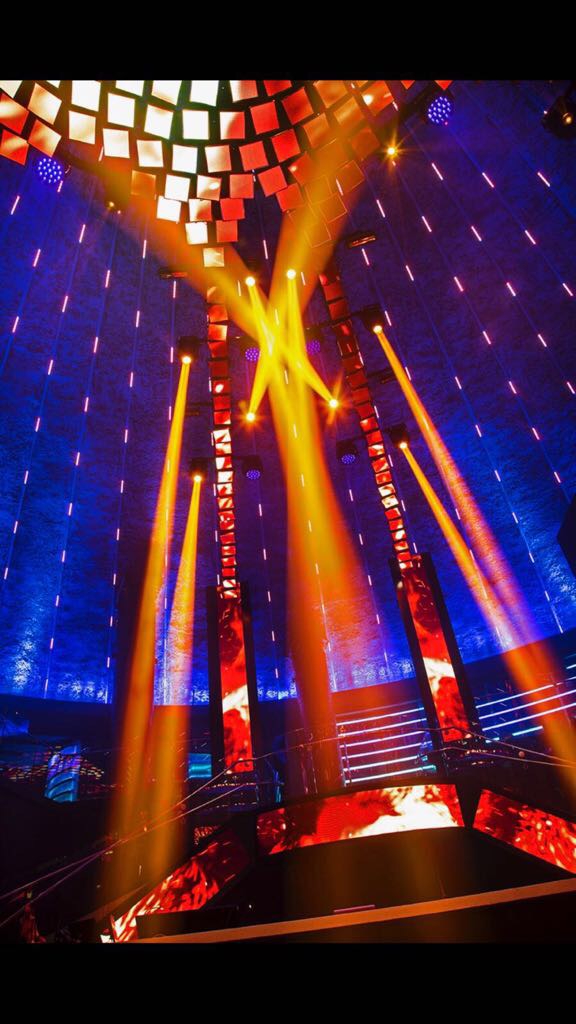 Marquee Sydney
TAO Group asked ICRAVE for "spectacular" and we gave it to them. We created a multisensory world where club-goers escape from reality in a choice of fantasy environments. The action in the Main Room is powered by a high-performance sound system and a world-class DJ booth back-lit by over 200,000 dancing LED lights. For a change of pace partiers can check out The Boom Box and The Library.
The Star Sydney – #1 Celebrity Party Destination
Location
Sydney, Australia
Services Provided
Interior Design
Lighting Design
Technology
Graphics
Marquee Sydney
Cowboys Club at The Star
The Dallas Cowboys game plan was for AT&T Stadium to be more than a place to watch football. So "America's Team" called ICRAVE's number to create a super-bold, upscale space that immerses fans in the Cowboys way of life. We turned a 19,000-square-foot space into the ultimate "tailgate" experience on game days, and fine dining on others.
The Club size expands and contracts depending on fan traffic, so it also works for a casual night out or impressive business lunch.
Location
Arlington, Texas
Services Provided
Interior Design
Lighting Design
Holland Casino
The Holland Casino recruited us to help them attract a younger, hipper clientele to the casino. So we designed a unique gaming experience that blurred the line between casino and nightlife. The new casino floor included new restaurants, bar/lounges and nightclubs, along with a mixture of introvert and extrovert gambling parlors, keeping both gamers and non-gamers happy and engaged. In the end, the Holland Casino redesign was all about layering spaces and having the ability to expand and contract spaces based on time of day and crowdedness — like Swiss cheese. Only with solid holes.
Location
Rotterdam, Netherlands
Services Provided
Interior Design
Lighting Design
Art & Graphics
Awards
Venues Magazine
Interior Design of the Year 2010
We created a lighting scheme that allowed the client to expose the whole space or create an atmosphere of high energy or a subdued energy.
We were conscientious and deliberate in creating a series of spaces that each had their own identity and could be 'found' by the patrons.
Provacateur
Credited with the transformation of NYC's Meatpacking District into an iconic neighborhood, ICRAVE knew how to bring one of the area's rare outdoor garden spaces to life. We designed Provocateur nightclub as a psychedelic romp through a hyper-surrealist world, where 18th century gardens and drawing rooms meet twenty-first century sound studios and ultra-lounges.
We created a provocative, adult-scale dollhouse with private, staged "rooms" that deviate from reality in an oddly playful, sexy and naughty way.
Location
New York City
Services Provided
Interiors
Art & Graphics
Lighting
Crobar
25 years after the legendary Studio 54 closed, ICRAVE was challenged to turn a 25,000-square-foot space into NYC's next great nightclub. We designed a venue that swept awards for best interior nightclub design, lighting and sound. Crobar quickly gained a reputation for music and adventure. It was new and risky and blatantly exposed private moments – re-igniting the NY nightlife scene.
Crobar remains the most published interior nightclub design of all time.
Location
New York City
Services Provided
Interior Design
Audio/Visuals
Komodo
Slaying the competition in Miami's booming Brickell neighborhood would take a killer design studio, so owner David Grutman summoned ICRAVE. Inspired by Southeast Asia's Komodo dragon, we designed Komodo Restaurant and Lounge as a lush garden oasis. A sculptural playground merges the indoors and outdoors with a South Florida feel that enriches the dining and nightlife experience.
Location
Miami, Florida
Services Provided
Interior Design
Lighting Design
Website
Bird's nest - ICRAVE designed Komodo's signature outdoor floating "bird's nest" seating to create a playful treehouse feel.
Lavo Speakeasy
When the TAO Group was planning the ultimate restaurant-nightclub destination in NYC, ICRAVE's reputation made us the clear choice. We designed a one-of-a-kind brasserie with a New York City Industrial Age look and European bistro feel. Below the restaurant, we created a subterranean playground, featuring a state-of-the-art DJ booth where some of the world's top musical artists perform.
King Street
Exclusive nightlife destination for the thrill seeking, sleepless crowd. An immersive theatrical journey behind dropped curtains. Sleek, monolithic surfaces act as a canvas to rotating projections, enveloping the audience in ever changing entry experience.
Location
Toronto, Canada
Services Provided
Interior Design
Lighting Design
Sound Nightclub
The plan for Sound was to bring a novel and always-evolving experience to the Hollywood scene. ICRAVE created a mash-up of new and old, industrial and stylized, electronic and rock 'n roll, analog and digital. Cutting-edge audiovisual and lighting designs make Sound an unparalleled nightclub journey.
Taking inspiration from the history of the club's Hollywood building – originally a market storehouse and later a classic theater – we filled the space with a mix of industrial textures and baroque accents.
Location
Los Angeles
Services Provided
Interior Design
Lighting Design
Website
Hyde
ICRAVE was invited to create a jewel box space that would make West Hollywood clubbers – including top celebrities – feel like they were partying in an intimate living room. The luxurious hideaway is located on an iconic corner of the famous Sunset Strip, and was named the year's "Best Nightclub, Bar or Lounge" by Hospitality Design.
Design highlights include herringbone wood floors, luxe crocodile leather banquettes, and a copper-leaf ceiling.
Location
Los Angeles
Services Provided
Interior Design
Célon
Inspired by the romanticism of the Moroccan landscape and the drama of its architecture, Célon Cocktail Bar & Lounge in the Bryant Park Hotel is an intimate, modern oasis. Immersive layers of dappled light, Moroccan-inspired sensuous textures will transport you to an opulent refuge tucked-away from the bustle of Midtown. The perfect hideaway from NYC's hot summer days.
Celón is an opulent refuge featuring layers of dappled light, sensuous textures and international music.
STK Meatpacking
In collaboration with the One Group, ICRAVE built a holistic strategy that integrates bold messaging, sleek branding, and iconic design to offer the changing palates of the mid 2000's a new kind of steakhouse. The STK brand entered the market in 2006 as a new dining typology and nightlife destination for NYC that was equally appealing to both men and women. Our team drew inspiration from starkly lit set designs of Robert Wilson to create an characteristic theatricality. Classic steakhouse motifs were reinterpreted into iconic elements that continue to make STK a design icon across America – lofty banquettes that can transition from dinner to late-night, a 10-foot tall lavender-glass fireplace, bold ceiling features, and a sculptural horn wall above the bar. After launching the Meatpacking headquarters, our team designed STK restaurants in Midtown New York, Vegas, and Los Angeles. Since its inception, the brand has gone from a startup concept to a publicly traded company with outposts across America, winning multiple awards for design and fine dining.
Location
New York
Services Provided
Brand Strategy
Operational Strategy
Interior Design
Lighting Design
Event Design
Graphic Design
Web Design
Website
STK Grace
As a second outpost of the STK brand, STK Grace is an architectural feat. ICRAVE focused on creating an iconic ceiling element that hugs the entire space, giving diners a dynamic pergola to dine under. Our signature STK banquettes anchor the space – making each seat the best one in the house.
Location
New York City
Services Provided
Brand Strategy
Operational Strategy
Interior Design
Lighting Design
Event Design
Graphic Design
Web Design
Website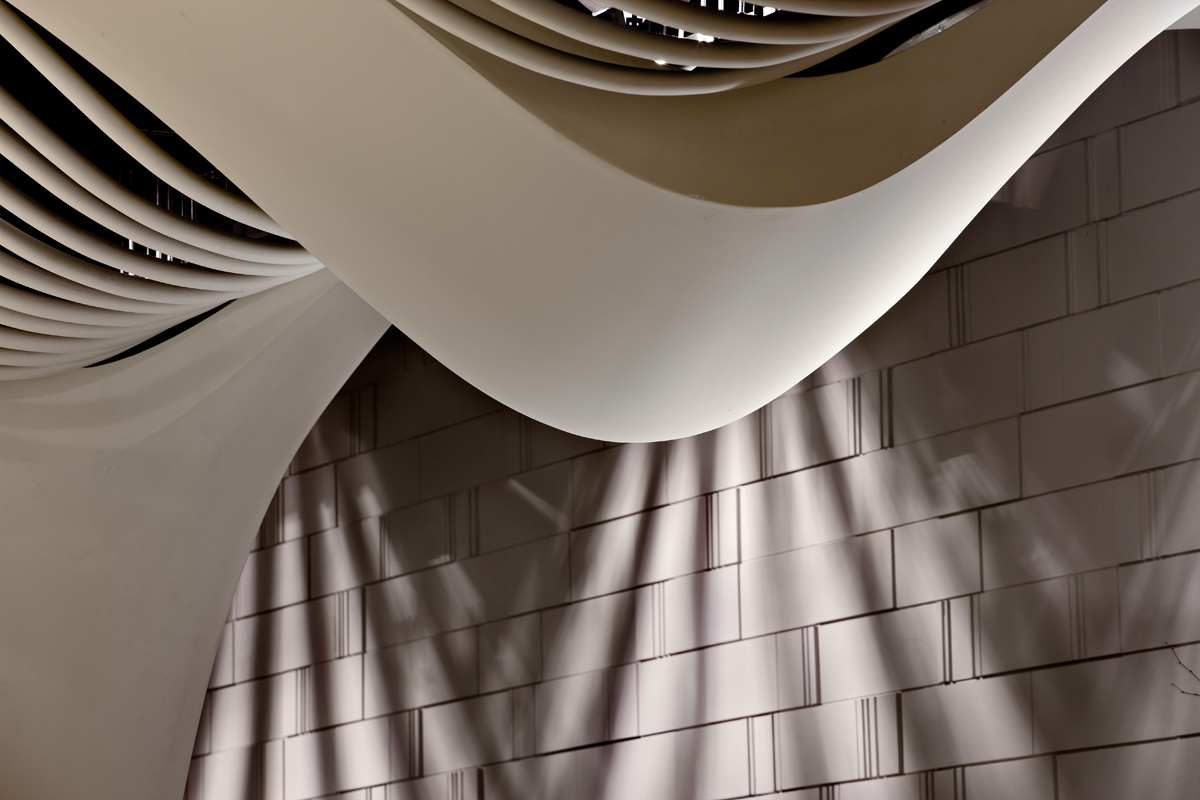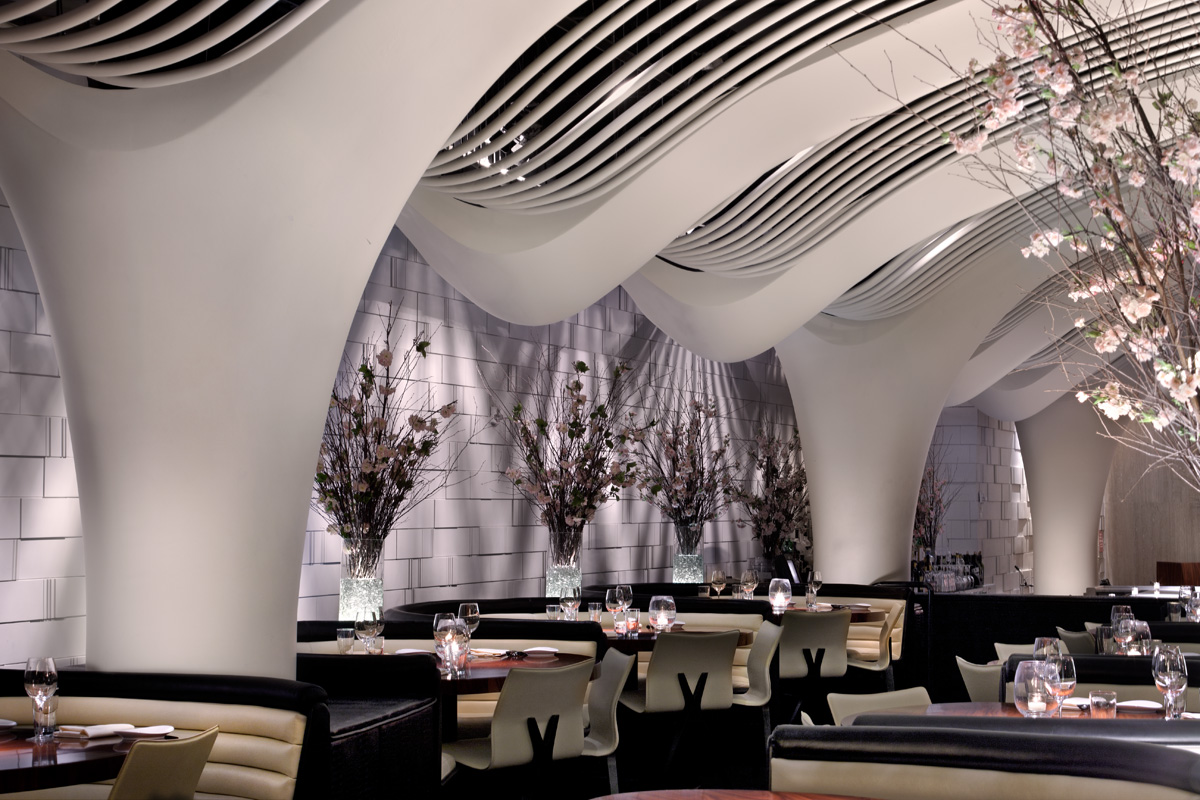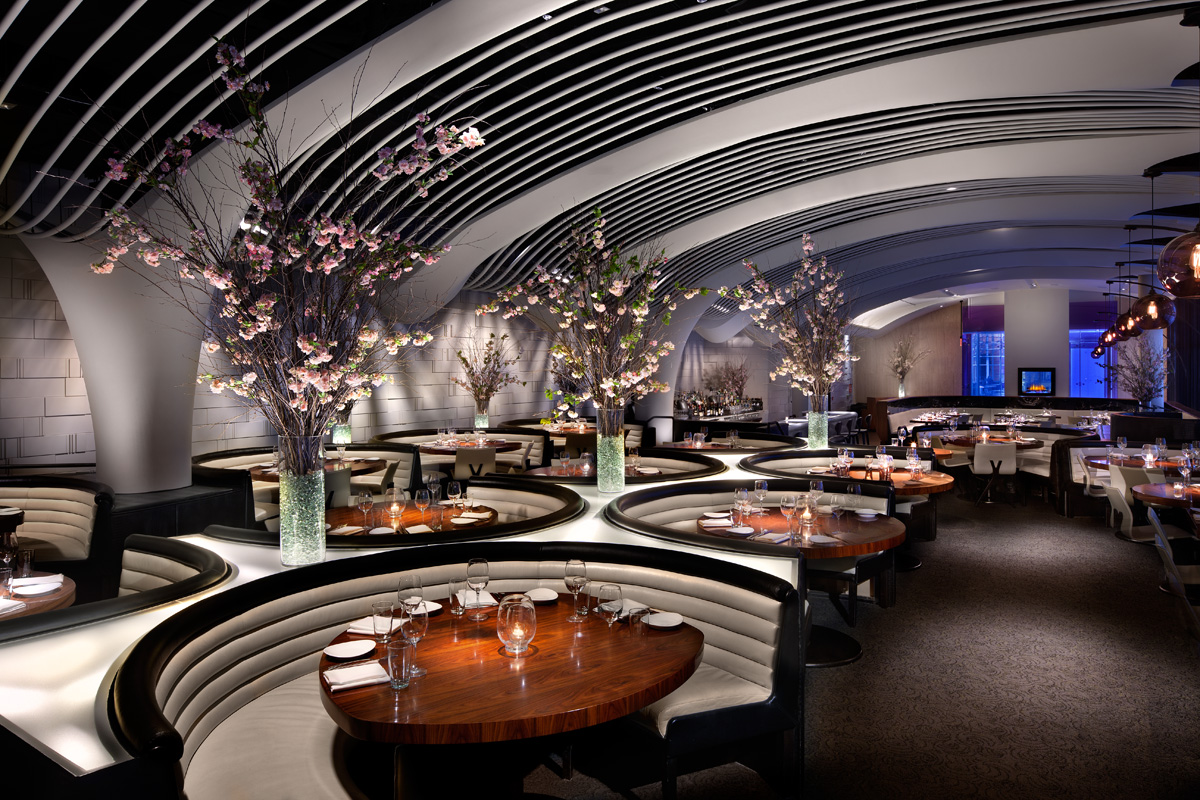 STK Cosmopolitan
Located in the heart of the Cosmopolitan in Las Vegas, STK's design aims to match the exuberance and theatricality of the Las Vegas culture. With a custom fabricated wall system that is inspired by the Nevada desert topography, high contrast lighting, and smoky mirrors that compliments the brand's signature white and purple palate, STK Cosmo is the place to see and be seen. This location launched the STK into a new territory and proved its versatility and dynamism.
Location
Las Vegas
Services Provided
Brand Strategy
Operational Strategy
Interior Design
Lighting Design
Event Design
Graphic Design
Web Design
Website